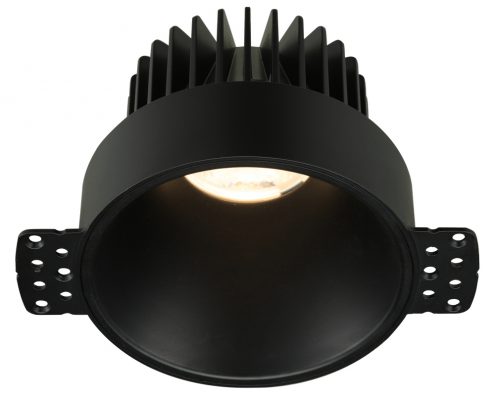 Model LD4R-IT
4″ Round Trimless Deep Regressed LED
Type IC, Air-Tight & WET – No Housing Required
3 1/2″ Deep – Install Where Ceiling Space Is Limited
Regular 15W & High Output 18W Options
Triac Dimmable with most CL dimmers 120V input
0-10V Dimmable Option 120V – 347V input
CCT options & lumen output: 2700K (15W 1100 lm / 18W 1500 lm), 3000K (15W 1200 lm / 18W 1550 lm), 3500K (15W 1250 lm / 18W 1600 lm), 4000K (15W 1300 lm / 18W 1650 lm), 5000K (15W 1400 lm / 18W 1700 lm) & Dim To Warm 3000K to 2000K (15W 900 lm / 18W 1150 lm)
Armoured Cable & Metal Connectors – Open Plenum Rated
Driver Inside Connection Box with Romex Quick Connectors
Warranty: 10 Year Residential, 5 Year Commercial Installations
Video Overview
Installation of Trimless Regressed LED Lights
Technical Specifications
CONSTRUCTION:
4″ Round Trimless Deep Regressed LED – Elegant Design Without Glare. Driver Inside Connection Box with Romex Quick Connectors.
One driver for every fixture required.
MOUNTING:
Please watch the installation video.
Ceiling Clearance Required: 3 1/2″
Default Driver Input Voltage: 120V AC TRIAC Dimmable
Optional Driver Input Voltage: 120V-347V AC 0-10V Dimmable
Power factor:  0.98
Energy Used: 15W or 18W
Halogen equivalent: 110W / 150W
Beam Angle: 30°
Light colour options: Warm White 2700K, Soft White 3000K, Bright White 3500K, Neutral White 4000K, Daylight White 5000K and Dim to Warm 3000K – 2000K
Light output 15W model: Warm White 1100 lm, Soft White 1200 lm, Bright White 1250 lm, Neutral White 1300 lm, Daylight White 1400 lm, Dim to Warm 900 lm
Light output 18W model: Warm White 1500 lm, Soft White 1550 lm, Bright White 1600 lm, Neutral White 1650 lm, Daylight White 1700 lm, Dim to Warm 1150 lm
CRI: 90+
Ambient Operating Temperature: -40°F (-40°C) to +104°F (+40°C)
Compliance: cULus, Energy Star (except DTW), T24
DIMENSIONS:
ID 4 7/16″; Thickness 3 1/2″
Cut out: 4 1/2″
Junction Box Dimensions (with driver inside): 3 3/4″ x 3 3/8″ x 1 1/2″
Suitable for insulated ceilings, open plenum, and wet locations.